The first time I had chemotherapy, I cried. I had to sign a consent form that I understood just what was going to happen to me. Of course, I couldn't read it. Most of that day was a blur, and my eyes were tightly closed. But the finality of consenting to literally poison being pumped into my veins really brought home that this was it, I had cancer. It wasn't just some horrible mistake.
Chemotherapy now is fairly routine. This was my Monday. An early start as we bundle the kids out of bed, and into clothes and off to childcare for Lachlan, and a neighbour's for Ben as it's too early for school. We head down Calvary Hospital in north Adelaide. This week I have a CT scan, so its off to imaging. First, we have to go through the Covid-19 door stop – no we haven't been interstate or overseas, in contact with someone with Covid, nor had a test in the past two weeks. Yes, we are well. We lean forward to have our temperatures scanned. A "Monday" sticker is placed on our arms.
The CT scan involves me lying still on the machine as a mechanical voice tells me to lie still, hold my breath and not swallow. Then contrast is injected through an IV cannula in my arm. It feels strange, as if I've wet myself. I am fairly used to it now though. I can't remember how many CTs I've had over the past two years. Then its off for blood tests and a weigh. Check in for chemotherapy. Then a wait for the doctor.
There is good news for once. The CT scan has revealed the pulmonary nodules and lymph nodes have shrunk. I am surprised! I was steeling myself for bad news. There has been so much bad news over the past two years. Good news is rare, and temporary, for the most part. Still. I will take good news.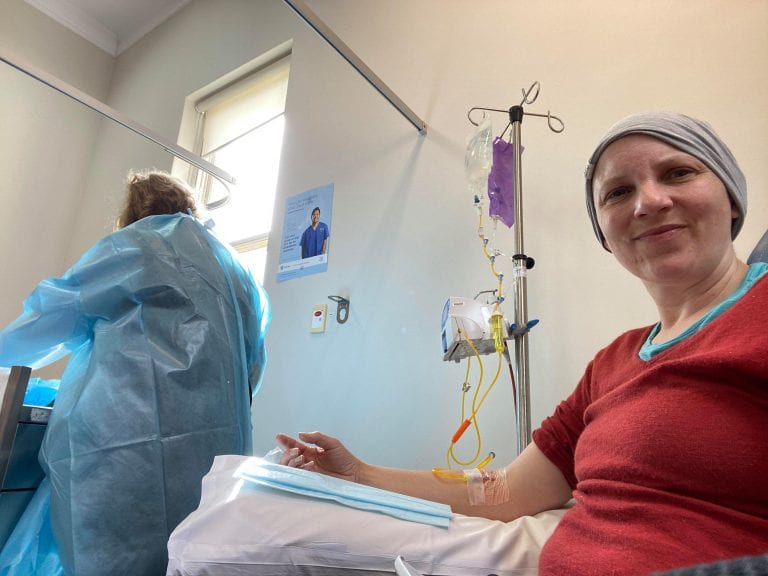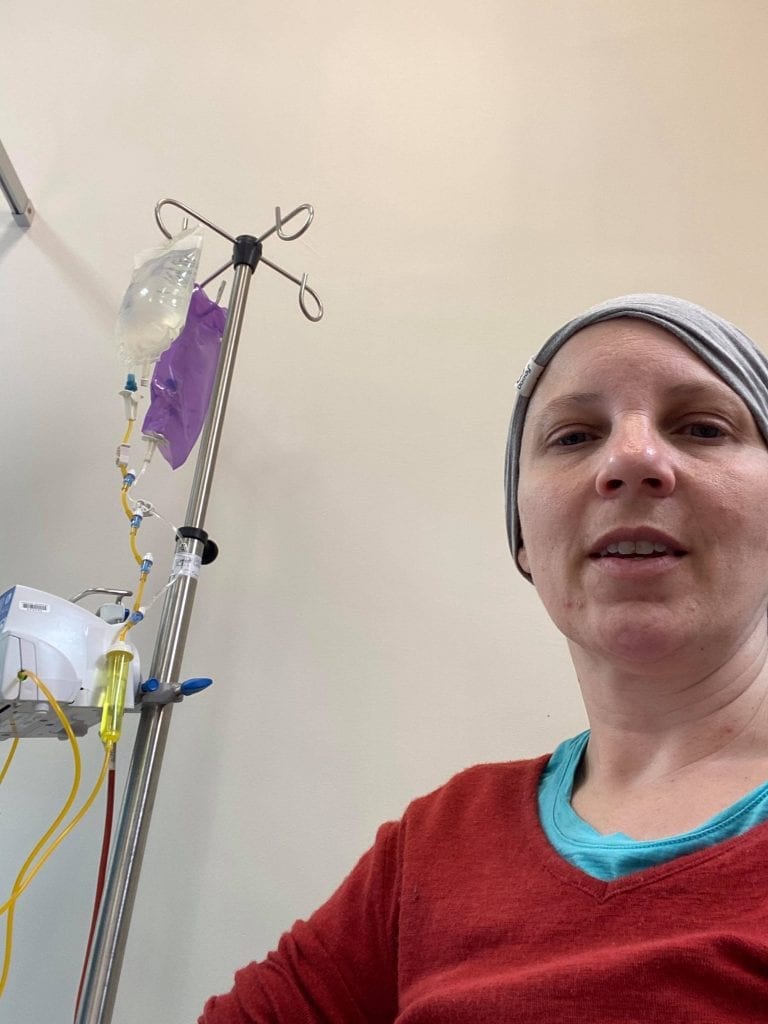 Finally, into the chemo room. It's a light airy room and I always feel I am the youngest in the room. Perhaps this is an illusion, and everyone looks old and haggard here. Chemotherapy is not kind.
The nurses are cheerful and efficient. The chairs are comfortable and recline. There is wi-fi, tea, coffee and snacks. Its as nice as it can be.
It is easier than last year. I have sacrificed my hair this year, avoiding the horrors of the cold cap: a device which froze my head through 5 months of chemotherapy last year in an effort to retain my hair and remain normal. It did work for three months, although my hair was not exactly healthy. In the last two months the hair drop began, and I ended up with a nasty comb over, leading to a very short crew cut soon after. This time, I've shaved it, so I look rather like an Auschwitz survivor under my hat. I keep my hat on at all times, except when I'm showering. I don't feel like myself without hair.
My infusion is really quick. Only five minutes really, then a flush and I'm done.
So that's it, chalk up another dose of poison.
This is week 1 of cycle three.
Next week, Keytruda (the $6000+) medication and more chemo.
But for now, I am done, and it is time to go home. Back to "normality"".